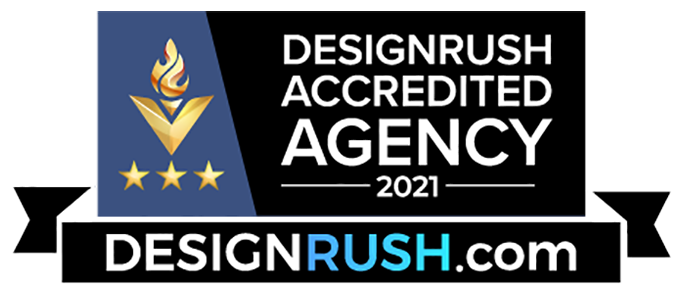 DesignRush, a B2B Marketplace Recognizes Optimized Webmedia Marketing
Optimized Webmedia Marketing is proud to have been named on the DesignRush List of 2021 Top Accredited Agency.
DesignRush is a trusted B2B marketplace, an online source for advising businesses on how to find the top digital agencies, web development companies, and SEO firms. It's a great resource for businesses who are in need of digital marketing services because it showcases the best-of-the-best and outlines each agency's strengths and services.
Our passion here at Optimized Webmedia Marketing is to help get your company's name to the top of the list on Google. Our experienced SEO experts have been doing SEO longer than Google has been around! Not many can boast that accolade! Each member of our core staff has over 10-years experience in SEO & PPC Advertising (including Google AdWords and Facebook/Instagram Ads PPC) and has serviced hundreds of SEO, PPC, and Digital marketing clients across North America, in a diverse range of markets and industries.
Today, we see many digital and web agencies outsourcing their SEO efforts, which doesn't always provide a cohesive integrated strategy. Our focus has always been SEO and that includes SEO web design and development. We love the complexity, the shifting trends, and the evolving techniques of SEO. When it comes to web design, SEO isn't an add-on for us. It's what we do.
Top, professional SEO firms have the skills and experience to make big strides in the digital landscape. For businesses that are seeking to start or expand their digital strategy in 2019, who you select to partner with can be as important (if not more important) than the actual strategy. This is because your SEO professional will guide and lead the strategy based on experience and trends, alongside what's happening in your industry now and what's predicted to be the future of search tomorrow.
The Importance of Our DesignRush Recognition
Who doesn't like to be recognized for a job well done? While awards aren't everything, when we get recognized for something there is an audible buzz in the office that acts as a spark of energy. It's the proverbial pat on the back.
Our team at Optimized Webmedia Marketing, works hard every single day to ensure our clients are getting the results they deserve. The results that drive us forward. They motivate us to continue to strive for more. Our client's words of thanks are recognitions enough…being recognized by a leading B2B marketing agency like DesignRush is just icing on the thank-you cake. It is further proof that our experience, hard work, knowledge, and results continue to propel us forward as one of the top SEO agencies and web development agencies in Canada.
Recognition feels great!
Recognition Can Fuel Business
We get a lot of business based solely on our results and referrals. Someone will call up saying, "Oh, we saw you did the website design (or SEO or Digital Marketing) for such-n-such-business. Can you get do that for us too?" Our clients also will recommend us to other businesses they know.
We also get business from our own SEO results. After all, we specialize in SEO and ranking well on the search engines is part of the process.
But, for many business owners, they require more information to make the decision. They begin to compare companies and, if you've ever done so yourself, you'll quickly realize it can be like comparing apples to oranges.
That's why we love B2B marketing agencies such as DesignRush. They make it easier for businesses to sift through the various digital firms in order to narrow down who might be the best fit for them.
Do you have a project coming up? Contact our Vancouver or Toronto office and let us know how we can help.